The Skyrim App That No One Wants to Pay For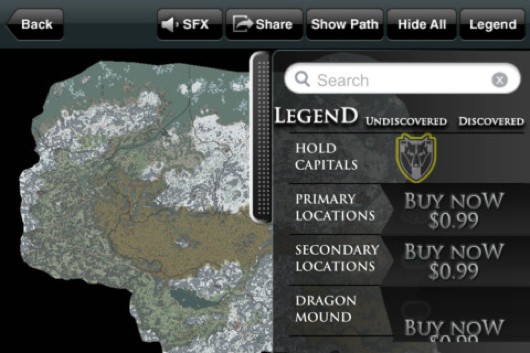 Prima Games has released an app for iOS devices via Apple's app store, but because it's Prima you can expect that it isn't actually a game or anything like a game.  That's because Prima Games are the lovely people who bring you strategy guides.  The app in question is actually really just a map of the world of Skyrim, which is great because it isn't like there is an in game map or anything for folks to bring up on screen any time they want.  Oh, there is?  You're right.  So, this is awkward Prima.
It's useful in theory, if you want to keep track of where you've explored and show your friends.  This app isn't totally free though.  The map itself and the nine hold cities are available for free, but everything else needs to be payed for.  There are reportedly over 1,000 points of interest on the map, and most of them cost something.  Wow, Prima.
[Source: BethBlog]
[Image via Joystiq]