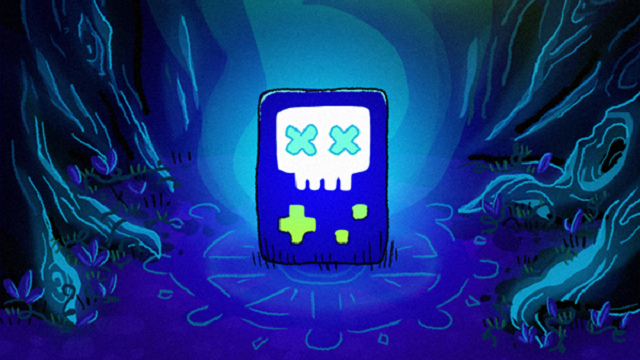 Nine Free Games Came from DEVCHAT's Ghost Wheel Game Jam
You guys know that I'm a man who loves his ghosts. Sure, sometimes we have our differences and I have to banish them forever using a magical camera, but otherwise I love those ethereal fellas with their bleeding eyes and constant moaning. The collective of artists, programmers, and musicians that form DEVCHAT must like them, too, as they collaborated on a game jam themed around the phrase "Ghost Wheel." The results are varied, and considering you can play all of them for free, you'll probably find at least a little something you'll like.
If you're for traditional game fare, maybe some running and maybe some gunning, games like Invasion might catch your fancy. In it, you have to fly from right to left (Which feels really weird) and shoot down stuff that gets in your way. If you just want speed, Music for Decay will have you flying along a track that builds itself before you, giving you split seconds to move and keep your ghostly orb…alive? Sure. If you just want to jump on heads, platforming style, install Spooky Ghost Wheel Town. You've got to keep a ferris wheel running in that one, but ghosts keep coming in and ruining the fun. Jump on their heads and get rid of them! None of those mediums on the television ever tried that, did they? Screw ceremonies and exorcisms – just smack your feet upside a ghost's head and fix your own problem.
For horror fans, there are some nice atmospheric titles in the package as well. Everyday Ghosts has players exploring a junkyard for odd pieces of equipment, and things just don't feel quite right there. Prowl is a bit stranger, leaving players trapped in the back of a scary car, but requires a bit of imagination to really get into. Beyond them, there's still several more free games that are all fun and interesting in their own way. Go down to the site and download the pack for free, and I'm sure you'll find some new things to like.
Sources