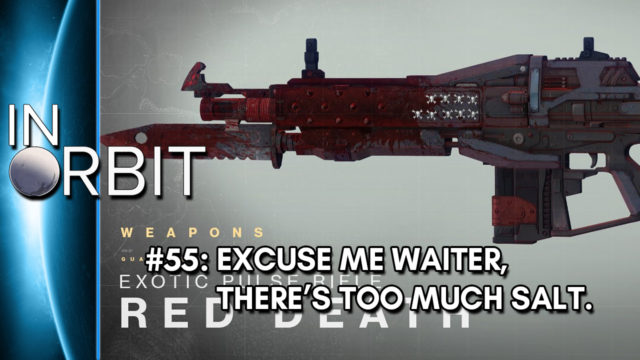 In Orbit #55: Excuse Me Waiter, There's Too Much Salt.
McFarlane Toys does Destiny, and it looks great! The Iron Banner Hunter, Vault of Glass Titan, and King's Fall Warlock will each be 7″, and will be on sale in July for a retail value of $20.00. In addition, a 10″ figurine of Lord Saladin will also go on sale for $35.00 complete with the wolf pelt and Iron Lord Axe. And finally, a cosplayers dream: a 44″ replica of the Iron Gjallarhorn will also go on sale later this year for $150.00.
The speculated (but already mentioned) HotFix 2.5.0.3 is coming with fixes to 2.5.0.2 addressing the unintentional nerfs to health regeneration perks. Rather than bringing all the other perks back to how it was before the change, they instead are keeping some of the original unintended nerfs and just buffing the health regeneration amount. We then talk the actual just released HotFix patch. We debate the changes and what we like, and did not like from the HotFix and how the community is reacting so far.
Sources