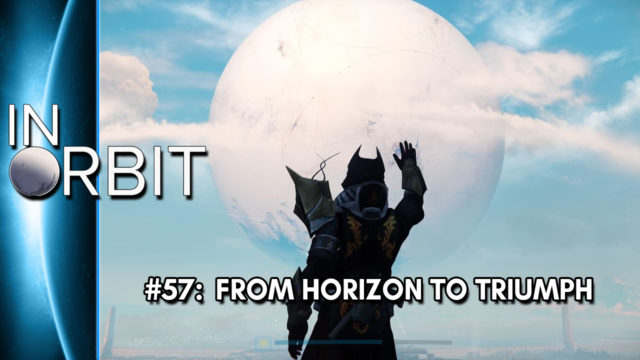 In Orbit #57: From Horizon To Triumph
The path towards our reclamation of our guardian's history with Destiny is teased. We are approaching the end of Destiny 1, with the Age of Triumph on the horizon in Destiny. The In Orbit crew discusses the teaser revealed on Friday, March 3rd, and speculate on what we will be doing come April of 2017. The In Orbit crew also speculate on what this means for Destiny 2 as during the teaser, Bungie unveiled some truths of the future; our guardian's will carry over, but everything else (seemingly) will be left behind.
This has lead to a community divided on the response. Many are happy that we will start with a fresh new mission; others unhappy that weapons and items, like Gjallarhorn and Bones of Eao, will not be making the trip forward with us. We quickly speak on this week's Iron Banner tournament and end the show with a small review on what current gaming trends we believe will affect Destiny 2, considering the new open world game Horizon: Zero Dawn, and if this trend of open world games will influence Bungie on making each planet or moon more of an open space.