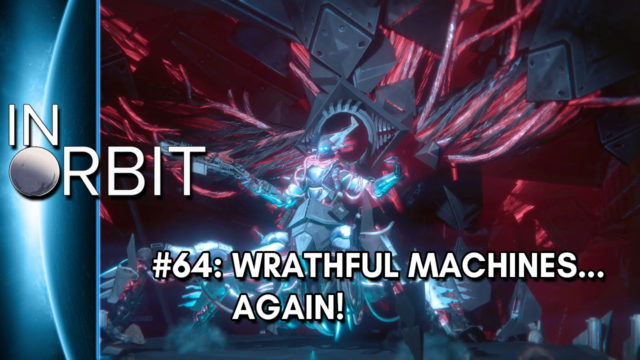 In Orbit #64: Wrathful Machines… Again!
This week the In Orbit crew is joined by Captain McFly, who provides insight on what this game Destiny was to him and what he was hoping to see. We discuss what the concept of Destiny was at the beginning compared to what it eventually became. The group talks about what they would like to see in the future of Destiny 2, ideas that have been in other games, and ones we believe will really improve Destiny 2 from the concept that Destiny 1 is. Ideas include different stories told from the perspective of different races and different classes, and Exo warlock has different abilities than an human warlock.
We discuss the weekly Wrath of the Machine being 390 for only this week. If Wrath of the Machine is not the weekly challenge raid, then the highest difficulty that you can select is 380. This will mean that you are unable to complete the node in the book unless the challenge is available for Wrath of the Machine. We discuss this situation and how it affects us from different perspectives.
The In Orbit group also discusses how challenge modes have changed how we approach the raid and how much we enjoy them. The challenge modes increase team work and communication and groups that are better capable of communicating have proven to be far more successful than those unable to. We discuss which ones really challenge us, which ones didn't hit their mark, and which one is the most fun. Lastly, we discuss the mysterious, deleted tweet from Bungie regarding their marketing materials about the Red Legion, and how it may hint at things to come.