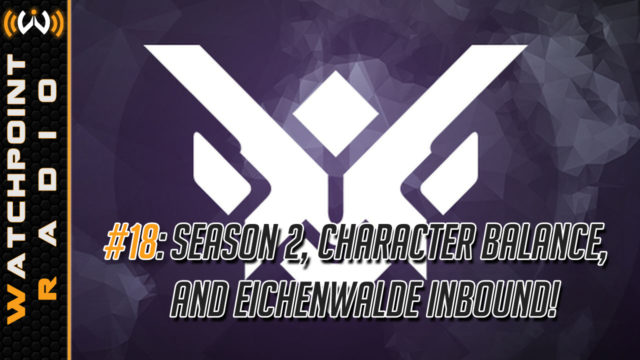 Watchpoint Radio #18: Season 2, Character balance, and Eichenwalde Inbound!
Gamescom is here, but unfortunately for us this podcast will release during day two and the show must go on. Next week we'll be covering everything Overwatch related from Gamescom, but in the mean time we'll talk about stuff we do know. Blizzard unveiled Eichenwalde: a new hybrid map where players will need to storm a castle in what appears to be Reinhardt's home town. There is a battering ram. Do I need to say more?
We also got a lot of info from Jeff Kaplan on the upcoming changes to Competitive Mode Season 2. Sudden Death? Out of here! Skill rank? Still here, but changing. Besides the salty kind, tiers are also being reintroduced in to competitive mode. If you've played Starcraft 2 you might be familiar with the tier levels already.  Most of the changes are welcome, but will they help the true problems that competitive mode faces?
We also discuss upcoming character balance. Nothing is set in stone yet, but the Overwatch team has been communicating a lot of what they've been seeing and what options they are looking at for characters such as Zenyatta, Mercy, and Mei. The WPR team dives into these topics and more on this episode of Watchpoint Radio!