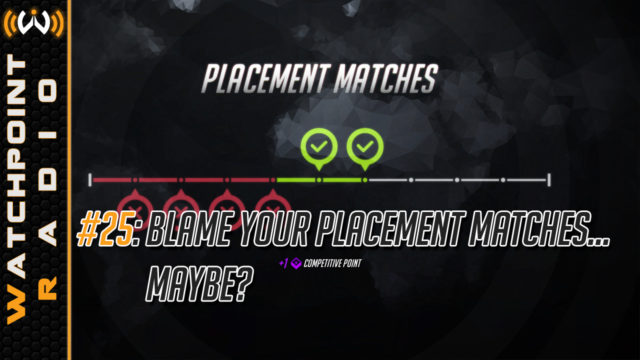 Watchpoint Radio #25: Blame Your Placement Matches… Maybe?
Things are still pretty quiet on the Overwatch front, but that doesn't mean the show stops. Last week Jarret told everyone that he is gathering SR data on season 2 matches in a few different areas. He's not ready to commit to anything yet, but based on early findings he things that your placement matches may be the cause of your high SR loss when losing matches. According to Jeff Kaplan, when the system believes you should win a match, but you lose, you're punished a bit harder than when you lose an even match up. If this is still the case, and your placement matches placed you too low, perhaps being placed too low based on placement matches is throwing off the SR system. A bit too early to tell, but we discuss it.
We also talk a bit more about tweaking crosshairs and discuss some of the feedback the audience has given us on it. We also dig a bit more into Sombra speculation and what her abilities could possibly be. You'll also hear about a few bugs, and some Halloween event speculation. That and more on this episode of Watchpoint Radio.
Sources