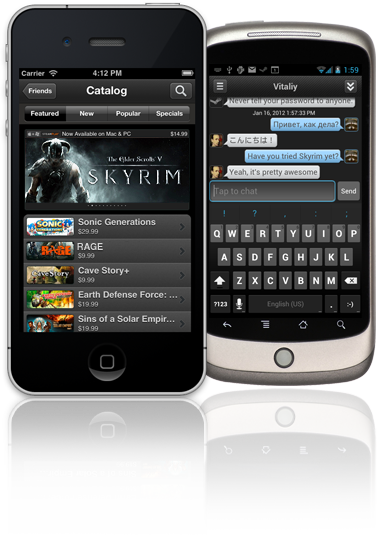 The day many of us have dreamed about has finally come: Steam has a mobile app. Sort of. The app is very real, but for now you have to be granted beta access to it. At this moment Valve is promising that they will send out more beta invites shortly. The app will allow users to access the Steam store on the go, and connect with their friends through Steam chat. Steam dropped the app for both Android and iOS devices today with no huge announcement and no front page splash, likely because the seekers of invites through word of mouth alone is going to crush their servers.
In fact the only place I've found it posted, other than the direct link on the store, is nestled away in the bottom of their about page for the Steam service. You can grab the app right now on the App Store and Android Market, and get more information about it at the new mobile page for Steam. Once you download the app, attempt to log in so that Steam can make a note of your account to send a beta invite to. We'll be waiting with you in rabid anticipation.
[Update 1/27/12] As of today, the 27th, staff at Mash Those Buttons have started receiving beta invites. Notifications of access have come across differently between all of us; on email, through the Steam inbox, and via pop-up upon exiting a Steam game. So keep your eyes on your Steam account. Users also get one gift invite to give to a friend — choose wisely.
[source: Steam]