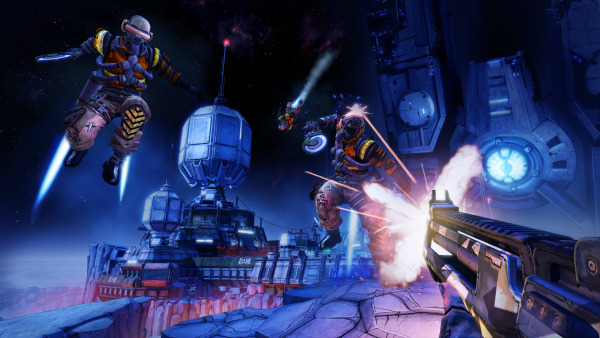 Borderlands: The Pre-sequel! Takes Players to the Moon
Details about a new Borderlands game have come out, and it's not to be confused with Borderlands 3.  Borderlands: The Pre-sequel! takes place between Borderlands 1 & 2 on Hyperion's soon to be moon-base and will feature four new playable characters — one of them being Claptrap.  THE Claptrap.  You'll also get to play as Wilhelm (yes, the Wilhelm you fought in BL2) and two other characters from that you may know from the Borderlands universe: Athena and Nisha.  The series main theme of having a bajilion guns is still going strong, but instead of shooting just bullets you'll have guns that shot laser bolts and cutting beams, because you know, it's space.
Players will have a new resource to worry about: oxygen.  Whenever you go to an area of the moon with no oxygen, you rely on your own oxygen supply.  You can resupply oxygen with ozkits or bubbles, but your oxygen also powers your jetpack and a butt-stomp ability you have.  Prepare for low-grav fights while you're in these areas.  I'm looking forward to hearing some of the dialog as you send midgets spinning out into the cosmos in low gravity.  BTW, enemies also depend on oxygen, so if you break their helmets with a headshot, it will suck the air right out.
Some people are seeing this as a cash-in using the Borderlands brand.  Maybe.  I see this as me getting more Borderlands, so as long as the quality equals what I've saw in Borderlands 2, I'm not going to be upset about it.  I still have quite a bit of BL2 DLC to get through to hold me over, but I'll be anxiously awaiting more details on Borderlands: The Pre-sequel! (that exclamation mark is part of the title, btw).  As long as Gearbox keeps the series core components intact (fun battles, funny dialog, interesting characters), I think fans will enjoy this new addition.
Sources