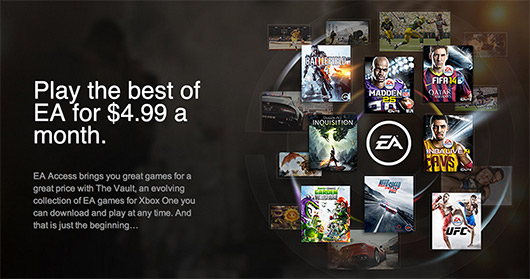 EA Announces XBox One Subscription Service Called EA Access
In the never ending quest for revenue streams, EA has announced EA Access: a subscription service that gives members access to EA games for $5 a month on XBox One.  EA Access members will have access to The Vault — a collection of select games from EA's library.  EA mentioned Madden 25, Battlefield 4, FIFA 14, and Peggle 2 as games available during the beta period.  The distinct lack of newer titles would tell me that you should only expect older games to be in the vault, but there is no telling how old a game has to be for EA to give Access members… access.  EA says they will add more games in the future, but didn't mention any games they are thinking about.
Members will also get a 10% discount on EA games purchased digitally on XBox One.  It's not clear whether or not the discount would only apply to certain games, so we will need to see in the future.  Lastly, members will be able to play games up to five days before release for a limited time.
If you're an EA Access member, you can download upcoming EA games five days before the release date to play for a limited time. Madden NFL 15, NHL 15, FIFA 15, NBA LIVE 15 and Dragon Age: Inquisition are all included, with more to come. If you love it, buy it, and you can pick up right where you left off.
I could be wrong, but it looks like they are offering members exclusive demos with the option to buy the full title on release, keeping your progress.  EA has talked about paid demos in the past, and just a few weeks ago a "technical error" showed some XBox Live demos with a $5 price tag.  Looks like that error was a precursor for what was to come.
There are still a lot of questions to be answered here.  Titanfall is excluded from EA Access, so what other games should we expect to be excluded.  How is DLC being handled?  Is that part of the deal too?  Is an XBox Live Gold subscription required? Hopefully EA will deliver more detail on the subscription in the near future.  In the meantime, check the sources for more info.