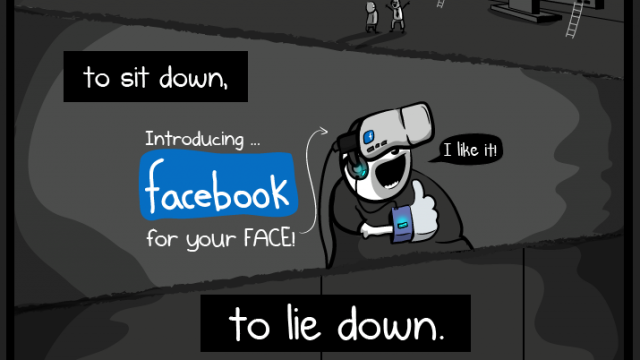 Facebook's Purchase of the Oculus Rift is Causing Backlash
Facebook's purchase of Oculus Rift has caused some waves.  It looks like just about everyone was taken by surprise, and the purchase has had mixed reactions among both backers and developers.  The Kickstarter page for the Oculus Rift has lit up with backers that support the acquisition, but mostly those that don't.
"Douchebag Oculus. Raises $2.5 million on Kickstarter. Immediately sells out for $2 billion. To Facebook. I want to retract all positive statements I ever made about this project." – Matthew Stephens
It's easy to see why backers would be upset.  The Oculus Rift raised close to 2.5 million dollars with the help of close to 10,000 backers (more than half of them pledging $300 or more).  Some backers feel like this is sort of a betrayal – that they backed the project to help it become a reality, not to help it get bought by a major player like Facebook.  Which leads us to many peoples big problem: Facebook itself.
Most people don't feel Facebook is a very trust worthy company, and when it comes to gaming there is even less love.  Markus 'Notch' Persson announced that the project to bring Minecraft to the Rift has been canceled, saying that Facebook's motives are too unclear and shifting, and that Facebook hasn't been a stable platform.  To make matters worse, there are rumors that Facebook will rebrand the Rift and will put in a Facebook interface.  Whether or not the Rift comes through on its promises, this deal has sullied its reputation and brand.
This doesn't just hurt the Rift, however; It also may hurt Kickstarter in general.  If backers feel that the money they put into a project is just to help the product get purchased by a bigger fish they will be less likely to contribute.  Backers back a project because of the ideas they are sold on, and if a bigger company buys that project and then doesn't deliver what the backer expected, this can cause an issue for future Kickstarters.
Only time will tell what will happen for the Rift, but this is one of those cases where we are hoping for the best but preparing for the worst.