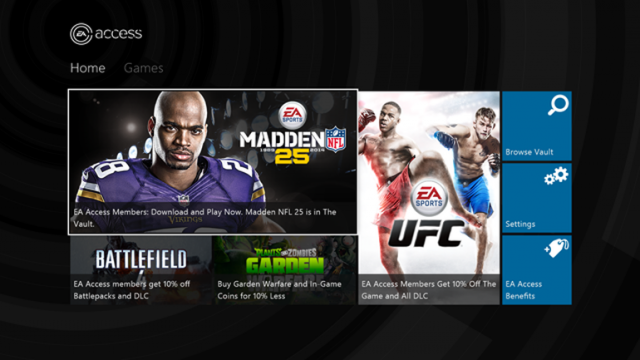 Sony rejects EA Access: "Does Not Bring the Kind of Value PlayStation Customers Have Come to Expect"
Electronic Arts unveiled EA Access this week — an exclusive service for XBox One that gives members access to a library of EA games, early access to exclusive demos, and discounts on digital purchases.  Some may have thought that Microsoft bought itself into exclusivity of the service, but it turns out that Sony had a chance to offer the service as well and decided to reject it.
"We evaluated the EA Access subscription offering and decided that it does not bring the kind of value PlayStation customers have come to expect. PlayStation Plus memberships are up more than 200% since the launch of PlayStation 4, which shows that gamers are looking for memberships that offer a multitude of services, across various devices, for one low price. We don't think asking our fans to pay an additional $5 a month for this EA-specific program represents good value to the PlayStation gamer."
Obviously this is pure speculation, but I don't think it's too far of a stretch to think that Sony wanted EA Access to be included with Playstation Plus subscriptions — adding further value to the service.  Also, Sony's Playstation Now service will be coming soon (it's in open beta now), and while there is  no subscription service right now, Sony has already said there will be in the future.  It's likely Sony doesn't want their player base to choose another subscription service over their own.
It's not impossible for EA Access to show up on Playstation, but for now it looks like Playstation gamers won't have the option.
Sources