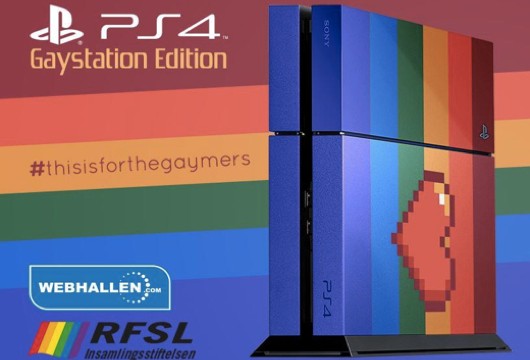 Swedish Retailer Webhallen is Auctioning Off The Gaystation 4
It's pride week in Sweden, and in celebration the Swedish retailer Webhallen is auctioning off a customized Playstation 4 in support of RFSL: The Swedish Federation for Lesbian, Gay, Bisexual, Transgender and Queer Rights.  As of now the bidding on the "Gaystation Edition" console is up to $2721.
"For many young people, the world of games will become a refuge to escape the taunting or worse of real life. On Webhallen, we are gamers in heart and mind, and are keen that as many as possible have the opportunity to feel welcome and enjoy the world's largest and fastest growing interest: video games."
100% of the proceeds will go to RFSL Newcomers, which works with those seeking asylum, undocumented migrants, and new LGBTQ arrivals.  My biggest question has to be how does the XBox Defense Force feel about this?  I'm pretty sure they've trademarked the word Gaystation, but I'm sure they won't mind since it's for a good cause.