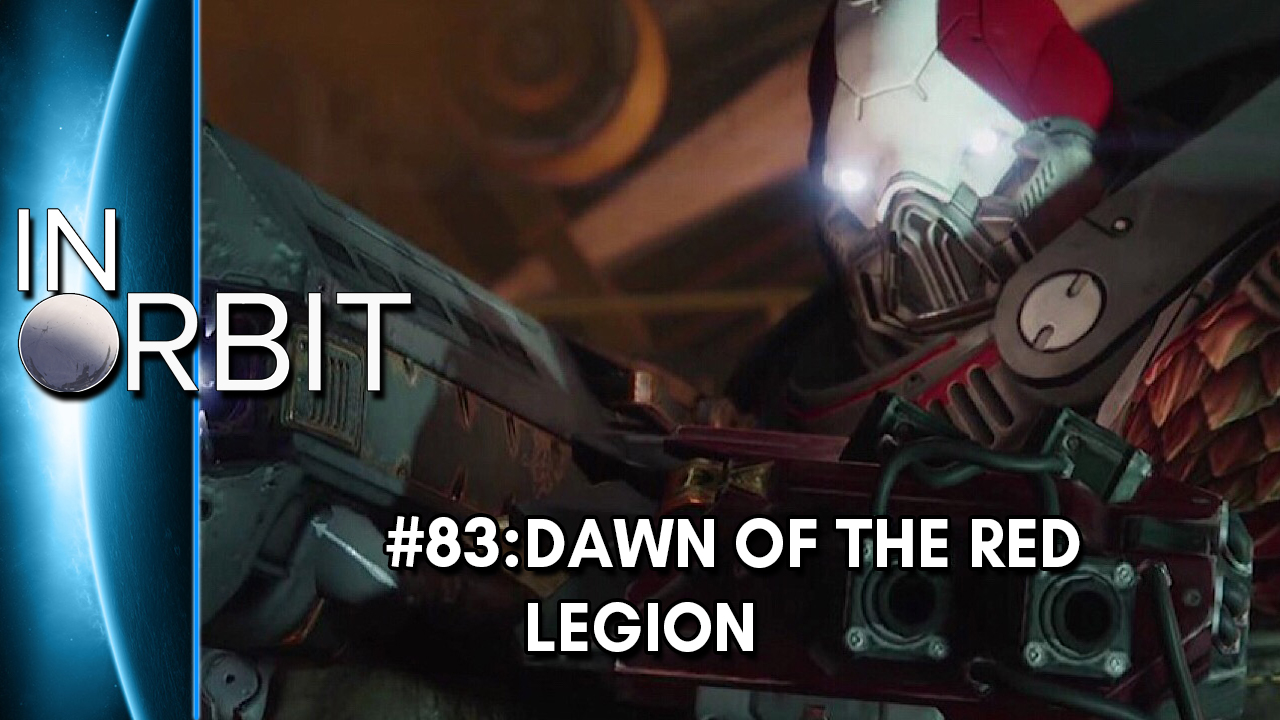 In Orbit #83
Dawn Of The Red Legion
Final D2 prep is underway as the new game is set for launch! In Orbit discusses this and your questions with Wilhe1m Scream.
Introduction To Wilhe1m Scream
Pop Tarts Are Live!
1. Buy ANY box of Poptarts. Doesn't matter if it has Destiny promotional material or not.
2. Take a picture of the receipt from your purchase.
3. Send picture of the receipt to D2XP@kfr.com (most consistent way). You can also text to 89332 with the caption D2XP your photo. It may not work.
4. Register by creating an account at https://www.kelloggsfamilyrewards.com/en_US/home.html
5. Wait a few hours…
6. Receive a confirmation email and log in at Kellogg's to get your code.
TWAB
PC Beta was a success and is seriously making people question on going PC exclusively.
New pin by Bungie for Hurricane Harvey relief.
Bungie was at PAX West.
Very Frequently Asked Question: "What is the exact time I can dive into Destiny 2?"
The answer is dependent on where you live. Destiny 2 will have a rolling midnight release across the globe. You will be able to play the game as soon as it is 12 AM, September 6, anywhere in your country or in some cases region. In the US, for example, that means the entire country is live when the clock strikes midnight Eastern.
Luke Smith Wired "Destiny Support" Video
Fusion Rifles being needed
Wardcliff Coil (new name of Dubious Volley)
Luke Smith confirmed Exos can eat food
Live Trailer Reactions
Messages From The Reef
Jason Buchan: Do you think they'll take away gun perks from armour like faster reload, more hip fire accuracy, faster ads, etc… and replace them with weapon mods quick draw mag, laser sight for better hip accuracy, grips for faster ads. And keep the armour perks relatively ability orientated?
Giving Quiet Signs: I have a question for all of you from the live action trailer. Is Cayde-6 a cat guy, or a chicken guy?
JustinYnolds: Is Dominus Ghaul the Shield Brother's father? I am super excited about the improvements to ease of player progression, but my biggest concern now is that I'm going to blow through the PvE content, and since the grind for god-roll weapons is gone…as a Destiny grinder, am I going to be looking at trouble?
Lars Umlaut: Is Destiny 2 on PC an afterthought?
DEFCON 01: What is everyone's launch day plan/routine? In regards to bungie saying engram's power will be determined on drop, and that will be a MINIMUM power they will decrypt at, what are our thoughts on that?
ChikinFingaz: How authentic is wilhelm scream's …wilhelm scream. What's the production value like?
JDPowershots: Your opinion on the Raid only being a week after D2 release
KJLewis25: with luke smith talking about the nerf of fusions…does it concern you with how they will balance the game going forward
Beardedskigods: when will crucible be available? after level 5?
Moraein: i'm not at all knowledgeable as far as destiny is concerned.. but from what i've seen, what exactly is different, or improved from Destiny 1?
Nick Z.: If I just play Crucible and don't level up through the story or "get the light back," am I handicapping my character?
Streamer Of The Week: GuardianOutpost
Hosts
Born in the 80's, given a NES and Gameboy at a young age, Jorge grew up in gaming and experienced gaming in many cultures due to moving around the world. Now in New Jersey, an older Jorge continues his journey in gaming. Adobo included.
A former professional cyclist, gaming has always been Jordan\\\'s preferred method of stress-relief. Traditionally an action RPG\\\'er, he has recently been ensnared in the modern MMO/RPG/FPS genre, and talks about it as a host of In Orbit.