Retro/Grade
Can you keep a beat? Our Lives Depend on It!!......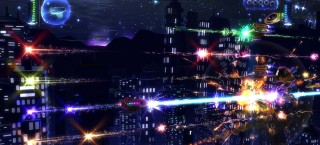 Save The Universe…In Reverse [Retro/Grade]
Retro/Grade is something that I never really thought I would see.  A hybrid Shooter/Rhythm (leaning more toward the rhythm side) game played in reverse.  You play as Rick Rocket, the guy who just saved the universe.  The problem is that Rick left so much destruction in his wake that he caused a temporal anomaly which......