Ocean Marketing Commits Career Suicide in Front of the Gaming Community: A Timeline
The Internet Rears Its Head / The Fallout
December 27th, 12:30 a.m.: Mike Krahulik posts about the entire ordeal.
December 27th, ~3:00 a.m.: Reddit gets wind of the news. Commentary and discovery ensues. User Cool Abed Films updates their post later in the day with reactions from some industry professionals who Christoforo name-dropped.
December 27th, 4:25 a.m.: Scott Lowe, of IGN, takes to Twitter to deny that Christoforo has the support of either party. He also says, "I worked with him briefly and he was completely unprofessional."
December 27th, 4:30 a.m.: Kotaku puts up a post about the email exchange they were made privy to by Dave. They add little of their own commentary on the subject, but advise readers to "Bring Popcorn."
December 27th, ~5:00 a.m.: Paul Christoforo becomes a meme on Imgur.
December 27th, ~5:30 a.m.: Kevin Kelly mirrors Scott Lowe's stance, saying he and G4TV don't support Christoforo either.
December 27th, 5:55 a.m.: Paul Christoforo becomes a meme on QuickMeme (under Douchebag Paul Christoforo).
December 27th, 6:24 a.m.: Paul Christoforo responds to Scott Lowe on Twitter and calls him a douchebag. He deletes the tweet shortly thereafter, but Reddit user anonlungent was quick with a snapshot: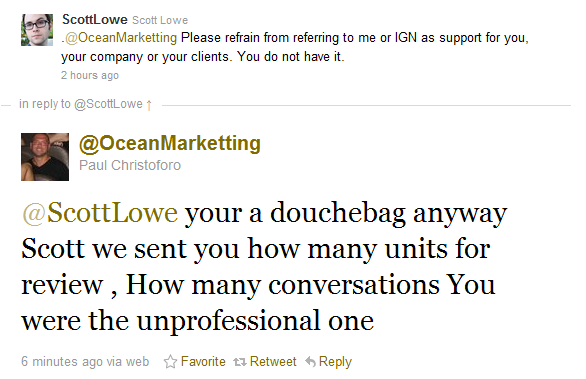 The internet, she forgets nothing.
December 27th, ~7:00 a.m.: Gameranx picks up on the story.
December 27th, 7:07 a.m.: Brian Crecente denounces Christoforo and Ocean Marketing on Twitter as well.
December 27th, 8:00 a.m.: Destructoid tosses their hat in. Jim Sterling holds nothing back, as per usual. He also says, "While I've never had the dubious pleasure of working with this company before, I have the tremendous pleasure of saying that I definitely won't in future."
Paul Christoforo puts up a new reply to Scott Lowe a less aggressive version of his earlier deleted post.
December 27th, 9:30 a.m.: GamerFront posts about the issue, and also speaks to Paul Christoforo directly. GamerFront had this to say about their conversation:
We spoke for around fifteen minutes or so, and he assured me that despite the negative press, he's been contacted by several companies, who have asked him to represent them. Paul also expressed confidence that this would simply blow over in a week or two.

He also told me that he's received a lot of emails from customers, who were similarly upset about not receiving their product before Christmas. Apparently the only thing special about Dave was that he caught him at a bad time, and got under his skin. Of course, that still doesn't excuse the way he treated a paying customer. Even if customer service isn't your primary job (which is apparently the case, according to Paul), you still should treat the people trying to give you money with respect.

When I brought up the posts on Reddit that discussed the emails, and the backlash that was visible there, he more or less shrugged it off. He seemed annoyed by the amount of friend requests he'd received on Facebook, since someone managed to find him. He credited that to the fact that his information was posted at the bottom of the Penny Arcade piece, and said that he'd be talking to his lawyers about that later today. What's more, he said that his job isn't really to deal with individual customers like Dave, but rather to strike deals with companies like GameStop and BestBuy. Those companies are buying his wares, so he "doesn't care about anyone else." Why? Because as long as his products are on store shelves, people will buy them.
December 27th, 9:40 a.m.: Engadget stands with IGN and G4TV on Twitter.
December 27th, 9:59 a.m.: The Better Business Bureau of Kansas City makes a blog post warning business owners not to handle complaints like Christoforo has.
December 27th, various times throughout the rest of the day: Many high-profile Twitter users, including Notch (Minecraft), The Bloggess (site), Wil Wheaton (he's freaking Wil Wheaton), Gary Whitta (Book of Eli writer), and Mike Capps (president of Epic Games) take notice. So do their followers.
#oceanmarketting also becomes a trending topic on Twitter.
December 27th, 10:25 a.m.: Turtle Beach actually lols on their Twitter account when they hear the claim that they would share a booth at PAX with Christoforo.
December 27th, 10:48 a.m.: William Goss, a reviewer for Rotten Tomatoes (with help from George A. Hickman), sends Mike Krahulik a message on Twitter, pointing out multiple instances where Christoforo's Ocean Marketing website plagiarizes other marketing sites.
Andrew Galbraith, writing on Examiner.com, also points out that posts from both Forbes and BizReport were posted in their entirety on Ocean Marketing's blog with no sourcing.
December 27th, 11:08 a.m.: Nathan Stansell (Nate's Network) notices on Google+ that Christoforo's name is popping up again in regards to poor customer service. He thanks Paul for "the bazillion page views."
Somewhere near this time, Nathan also changes his store page into the "Screw Paul Fund," mostly out of humor.
(Full disclosure: I personally left a suggestion on G+ for Nathan that, "If you end up not figuring out any other way to shame Christoforo, I'd suggest donating the money to Child's Play (childsplaycharity.org). They provide kids in hospitals video games, etc. that are on their wish lists. It was also started by….wait for it…the guys who run Penny Arcade." The idea gains some steam, Nathan takes the suggestion and updates his store page.)
December 27th, 11:36 a.m.: The Business Development Director for N-Control, Frank Shephard, responds to a request for comment from Matthew Stewart of Gameranx by saying, "no official statement yet. All "I" can say is that "I" apologize to anyone who has been treated poorly by him. More to come soon [sic]"
December 27th, 12:43 p.m.: Nathan Stansell updates his post with how much traffic he's already gotten because of the story:
So far today:
28,926 Pageviews
25,952 Unique Pageviews
A few new G+ friends
And a couple awesome emails and personal comments sent!
December 27th, 12:44 p.m.: GEICO's official Twitter account, responding to a tweet from former Activision Community Manager Josh Olin, says: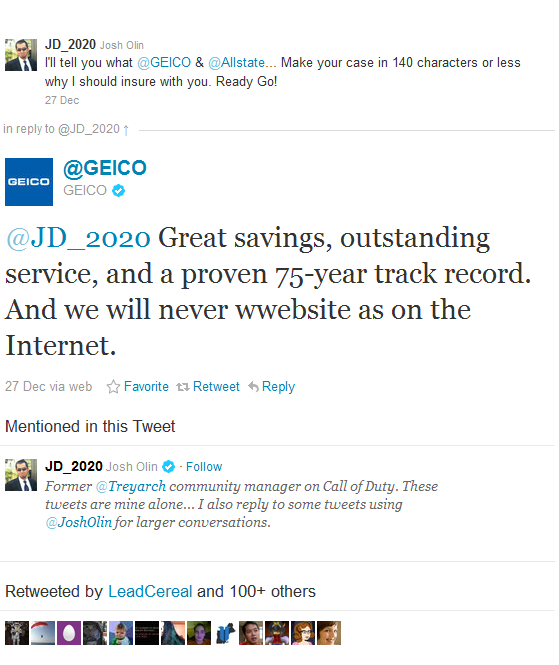 December 27th, 12:53 p.m.: Dan Amrich (aka One of Swords), a blogger for Activision, responds to a request for comment from MashThoseButtons with:
@mtbsite an idiot on the Internet? You don't say! :) never heard of him or that product before today. Do not want.
December 27th, 1:02 p.m.: Christoforo abandons his @OceanMarketting Twitter account, picking up @OceanStratagy instead. An enterprising user registers the @OceanMarketting handle and starts using it to promote indie videogames and charity.
December 27th, 1:04 p.m.: Sundance Giovanni, CEO Major League Gaming, tweeted Mike Krahulik to let him know MLG is not partnered with Christoforo or The Avenger controller.
December 27th, 2:27 p.m.: Epic Games makes an official statement through their Twitter account saying, "Officially licensed @GearsofWar3 controllers are only available through our partners, Xbox and Mad Catz."
December 27th, ~2:30 p.m.: An update comes through on GamerFront's post, this time with a copy of an apology that was sent from Christoforo to Dave.
December 27th, 3:45 p.m.: Joel Johnson posts on Kotaku again, this time about an oddity that arose when they attempted to reach a previous contact at Avenger Controller. Details from email sleuthing, including impersonation and possible steroid use (leading back to the Anabolic Steroid forum), come into play. The contact Kotaku was trying to reach emails them directly with this:
Hi Joel,

I have been following this story since this morning when someone notified me about what was going on. I did not write that response to you.

Yes, in the past I received email at brandon@avengercontroller.com but even then we were an outsourced marketing agency for N-Control. I no longer receive email at that address because we fired N-Control as a client about 8 months ago due to constant shipping delays (which we had to deal with) and their association with Paul Cristoforo who is a street thug masquerading as a self proclaimed "Marketing Professional". This guy is a complete fool and somehow strong armed his way into working with the company so we walked away. I am not surprised in the slightest bit by what's going on right now. In fact, we told the owners of the company on many occasions that this would eventually happen.

I wasn't going to chime in but since he is replying as me, I can't resist. I personally can't stand him.

Brandon

_____________________________________________________________________

Brandon Leidel – CEO, Director of Operations
The HAND Media, Inc.
December 27th, 3:52 p.m.: Eli Schwartz takes over marketing for N-Control internally and starts damage control on the situation. He sends messages to multiple parties on Twitter who were involved or noticed the story throughout the day:
Regarding the whole #oceanmarketing deal, I want to say i'm sorry, I work for n-control and we no longer employ #oceanmarketing
He also produced a statement from the owner of N-Control:
We apologize for our poor representation from Ocean Marketing. We wanted to give Paul a chance. He was rough around the edges, but he had drive and enthusiasm.

However his behavior was unprovoked, unnecessary, and unforgivable. We are no longer represented by Ocean Marketing.

David Kotkin
Owner/Inventor
Avenger Controller
December 27th, 4:05 p.m.: Mike posts an update to Penny Arcade with an apology letter from Christoforo.
December 27th, 4:54 p.m.: Penny Arcade forum-goer <:__)~ posts information (gained between Reddit and the SomethingAwful Forums, can't locate original source) including Christoforo's MySpace page and an ID on an Anabolic Steroid forum (ID has since been hidden or removed, link goes to main forum). Also posts this picture from his MySpace:
December 27th, 5:12 p.m.: The same PA forum member, <:__)~, posts a video from the Ocean Marketing YouTube account. It's Christoforo showing off a YZF R6.
December 27th, 5:27 p.m.: A new Twitter account surfaces (@OceanStretagy), confusing many into believing Christoforo has switched accounts yet again. The account is very combative with multiple users over the course of about 4 hours, at which point tweeting ceases. There are multiple factors pointing to this being a fake account, created specifically to get a rise out of people. @OceanStratagy still tweets during this time period, and @OceanStretagy's sentence structure isn't consistent with previous written exchanges by Christoforo.
December 27th, 5:30 p.m.: Tyrannus, also from the Penny Arcade forums, points out a news article that covers why the controller was made in the first place. A teacher named David Kotkin designed the controller for a disabled student, Danny Lamarca, to enable him to play the Xbox his parents bought him.
"It comes from a place of love it really does a good place it wasn't made in a studio," explained Kotkin.
(Additional news stories here and here.)
December 27th, 6:09 p.m.: Matt Stubbs notices (earliest occurence I've found) that someone has created a website. Or, more appropriately, The Official Wwebsite As On The Internet. It was apparently made by Aeron Creative.
December 27th, ~8:00 p.m.: YouTube user New Challenger uploads a parody video called "Ocean Marketing FAIL."
December 27th, 10:30 p.m.: Another story from Kotaku is posted, recounting the events of the day and comments from different parties involved — such as Brandon Leidel, CEO of The HAND Media, Inc., David Kotkin, and Eli Schwartz. Kotaku notes that Kotkin and Christoforo registered as officers together in a company called Afternoon Artists, but there was a correction by Schwartz:
 "David (Kotkin) said it was a LLC for a charity that was never actually created," he said. "He bought the name thinking Paul would be involved, but nothing came of it. The company never actually existed."
December 27th, 11:38 p.m.: Gameranx makes a new post detailing more of what happened throughout the day, but also brings to light a police report involving Christoforo, who allegedly assaulted a Catherine P. Sherman.
December 28th, 6:47 a.m.: Christoforo changes Twitter accounts again, this time to @OceanDeepSea. @OceanStratagy, like the other handles before it, is appropriated by a user who goes on pretending to be Paul. The website listed on that account now goes to Ocean Marketing Group a marketing company located in Bossier City, LA who is not affiliated with Christoforo's Ocean Marketing.
December 28th, 11:33 a.m.: Mike Krahulik posts a short update on the winding down of the previous day. There's also a new comic specifically about it.
December 28th, 1:00 p.m.: Nathan Stansell posts a final update of his site numbers from the previous day. The final tally:
Some stats for the numbers geeks out there watching this Ocean Marketing thing.
In regards to my page: http://www.natesnetwork.com/Poor-customer-service
Pageviews – 124,068
Unique Pageviews – 111,099
Avg. Time on Page – 00:09:10
December 28th, 2:00 p.m.: Paul Christoforo speaks with MSNBC, mainly to put across the message, "I want to clear my name. I want to get these people to stop bothering me."
12/28/11, 5:14 a.m.: Going to have to leave off here, readers. After a power outage and hours of collecting and sorting information into chronological order it's quite late. There are some gaps in time, before and after the apology letters get sent out (oh yes, there's more after), but the major points are there. Will pick up on this tomorrow. 
12/28/11, 1:00 p.m.: The game is afoot once more. Timeline will be updated throughout the day with more links and more accurate times as I get them.
12/28/11, 4:38 p.m.: I think my work here is finished. If there's any outstanding errors or likewise notable events that I've missed, let me know in the comments. At this point Christoforo is still tweeting away on his @oceanstratagy account, and while he seems more humbled, is certainly still sniping back at comments. It seems like this is mostly over though. Perhaps N-Control will be able to make something positive out of this mess for themselves, but they've got a long road ahead.
12/28/11, 5:59 p.m.: Heh, looks like I goofed at the end there. I thought Christoforo was still on @oceanstratagy, but he had since swapped accounts again this morning. Thanks to @gamejournos for the general notice about the change. From there I tracked down the first mention of the switch, back at 6:47 a.m., and added it to the timeline. I think that really does it this time.
[Sources: various, all attributed with links as thoroughly as possible in the above post]