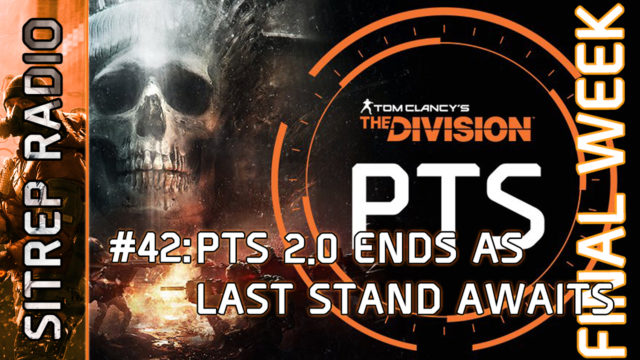 SITREP Radio #42: PTS 2.0 Ends as Last Stand Awaits
This week the lads present a laid-back, shorter 30 minute episode that takes a look at the few key changes that are coming to the PTS build before it is shut down during "Massive's office hours on Friday 10th February 2017" – as confirmed by Hamish during this weeks State of the Game broadcast. Keith (from RedStorm) joined for a sizeable chunk of the broadcast to discuss behind the scenes tweeks that 1.6/Last Stand will be receiving before release. However, all talk post-broadcast was that Keith had officially given Yannick cause for concern this week as he made his move on Hamish, making #Kamish potentially THE power couple of 2017.
Mike, Rob and Luke also give a run down of the games they have been playing recently as they look to reduce their The Division play-time while awaiting the release of update 1.6/Last Stand. There's also some inter-clan PvP chatter from their Agents of the Technodrome clan and brief nod towards the future/Year 2.