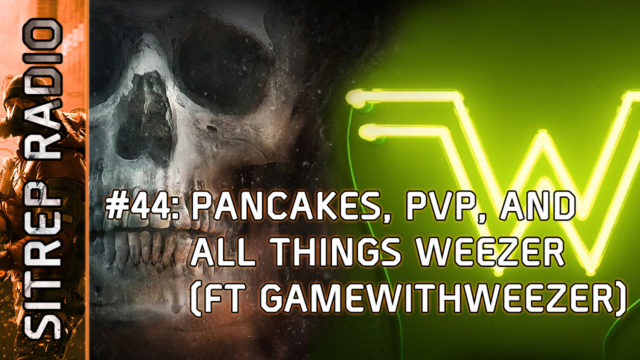 SITREP Radio #44: Pancakes, PVP, and All Things Weezer (FT GameWithWeezer)
As was teased during last week's episode, Mike, Rob and Luke sit down this week for an informative chat with none other than @GameWithWeezer. It's another lengthy effort, but in all honesty this interview could have gone on all night. There is talk of update 1.6, the Last Stand DLC, ETF2, builds, gaming history, and we push for Year 2 exclusives/secrets. There's also the back-story of Weezer's past interactions with the band he shares his name with. So pour yourself a drink, get comfortable, and settle in for Episode 44.
In other news, Hamish soloed this week's State of the Game broadcast and announced that Update 1.6 and the Last Stand DLC would be released on PS4, XBox One, and PC on Tuesday 28th February 2017. And finally, #TeamSITREP have been running Week 2 of their #SRRSpeedChallenge all week, with some official The Division merchandise on offer for the winner, kindly supplied by the awesome guys over at Massive.
Details of the challenge can be found on any of the guys' Twitter handles (@sitrepradiopod, @SITREPLuke or @sitrepradiorob) or via the hashtags #SRRSpeedChallenge or #TeamSITREP. Week 3 of the challenge will be announced over the weekend.