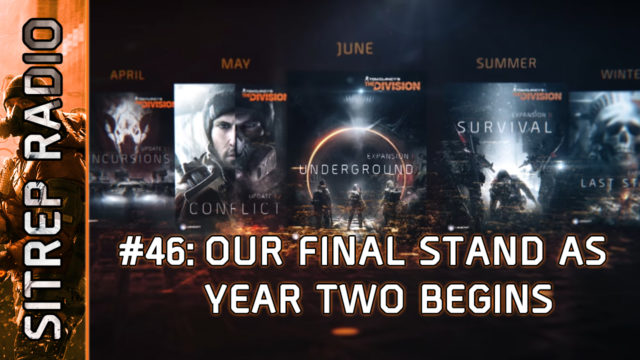 SITREP Radio #46: Our Final Stand as Year Two Begins
#TeamSITREP give their reviews of 1.6 and Last Stand now that they've had their hands on them for more than a week. The overwhelming feeling is a positive one. Last Stand has gone down very well with Mike, Rob, and Luke and while the new difficulties are punishing, the boys are enjoying the challenge.
The team also want to congratulate everyone who took part in #TDCWeekend last weekend. It was a huge success, and very enjoyable. The Division also had it's first birthday this week, and the team bought the community a Special Report to celebrate the fact. There were giveaways and discussions with members of the development team, and also initial details pertaining to Year 2 content. The community did not warm to this announcement, in fact it's fair to say the reaction from many has been very negative indeed, but it remains to be seen just what the future holds for The Division.