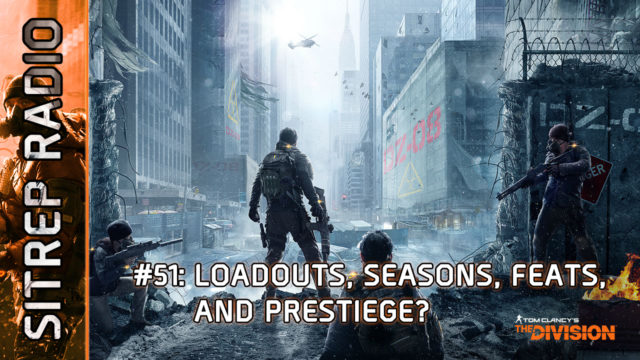 SITREP Radio #51: Loadouts, Seasons, Feats, and Prestiege?
Mike, Rob, and Luke decided to spit-ball a few ideas regarding the "Feats and Seasons" that The Division will be implementing with their upcoming updates. The boys talked about possibly introducing "Prestige" type modes to the game, as well as a lot of talk surrounding the patches/emblems that were hinted at in previous State of the Game Broadcasts. There were also ideas regarding new a Exotic Weapon and a few new Exotic/Named armour pieces.
The lads also give a shout-out towards their 52nd episode next week, which will mark a full year of content-support. There will be another of their always-enjoyable drunk streams to celebrate, so keep your eyes on Twitter for the official announcements from #TeamSITREP. This weeks State of the Game broadcast also delivered the exciting news that update 1.6.1 would be coming to PC-only PTS "soon".
Loadouts were also confirmed as part of the upcoming free update. This particular addition has been pushed forward from an intended July/August release to May, which is great news for the community as this is something fans of the game have been calling for since release.