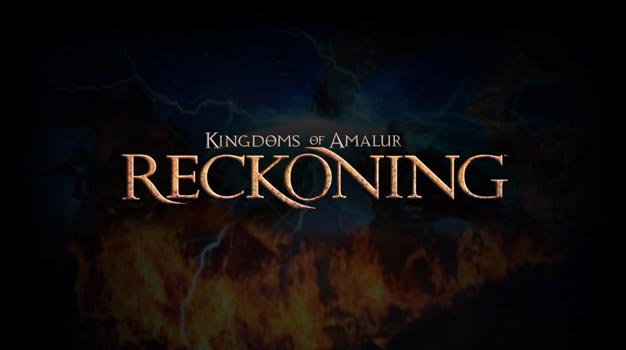 With Big Huge Games' action-RPG, Kingdoms of Amalur: The Reckoning, only a few months away from finally being released, it only makes sense that there will be some crazy limited edition to take up some extra space on shelves. Well this time around, eager gamers can look forward to not just one, but three deluxe versions of the game on which to fritter away those leftover holiday gift cards. The details of the game's special editions can be found below.

First up on the list is the good ol' deluxe edition of Kingdoms of Amalur, the contents of which are pretty standard. Included in this set will be a map of the world (cloth, presumably), a seven-piece dice set for all those tabletop RPG-playing guys and gals out there, a full set of 40 "Destiny Cards" which are also featured in the game, and the soundtrack. This little set only costs $80.
Only costs $80, Jason? Why downplay the price? Well, seemingly ignorant inner voice, that's because the other two editions are what we in the industry call "crazy expensive."
So, the next edition up from the $80 version stands at a whopping $200. It goes without saying (Yet I say it, why?) that this version of Kingdoms of Amalur will include everything from the $80 version and much, much more. As you can see from the above image, the Collector's Edition of Reckoning features a Prismere Troll figurine from McFarlane Toys (12.5″ tall) and a high-quality concept art lithograph signed by Ken Rolston, the game's artist. Only 700 units of the Collector's Edition will be made, according to the developer.

Finally, the Kingdoms of Amalur: The Reckoning Signature Edition includes everything from the previous special editions of the game, but this time with the added quality of some signed swag. For $275, gamers will get the contents of the Collector's Edition as well as a custom sketch from Todd McFarlane and a few signatures (on your own personal troll) by big RPG alum like R.A. Salvatore or former MLB pitcher Curt Shilling. This edition is limited to 300 units.