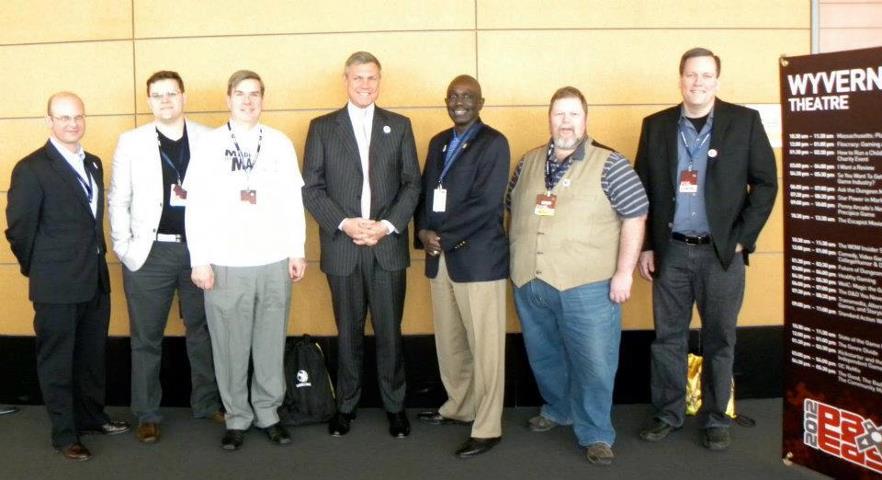 One of the first panels at this year's PAX East was Massachusetts: The Play State. Panelist included big names from Massachusetts universities, game studios, and even government. Within just one year the Massachusetts Digital Games Institute (Mass DiGI) has raised $1 billion for video games in Massachusetts. There is no denying it's becoming a play state. Mass DiGI is located at Becker College in Worcester, MA and as Present Johnson said it has been ranked in the top ten by The Princeton Review for its computer game design and development programs.
Greg Bialecki (Secretary of Housing & Economic Development for Massachusetts), said, Massachusetts has always been a hot spot for technology, mostly for medical though. However, with great colleges like MIT, Becker, and WPI it also creates lots of great future game designers. The problem lies in that there weren't many companies to stay around and work for after graduating.
Fortunately, due to the tax incentives for video games, things seem to be changing. Aaron St. John (CEO of HitPoint Studios) talked about how it's a lot easier to make their money go further here than in states like Washington. They currently are only a 40 person studio, but are looking to double their staff this year. Also Turbine (who is also part of Warner Bros. Interactive Entertainment) is looking to increase their staff this year. Ken Surdan (Vice President of Operations at Turbine) also pointed out that Massachusetts has the colleges which create the future game designers, just not all the big studios to keep them around. Hopeful that will all change soon.
Even Penny Arcade has renewed a 13 year contract with the Massachusetts Convention Center Authority for PAX East. It was also clear to see at PAX that there are a growing number of gaming companies in Massachusetts. I was surprised at how many booths were part of the "Made in MA" scavenger hunt. I was born and raised in MA and was aware that video game development was getting bigger here, but I didn't know it was so big already. I guess we all have kind of forgotten that the first video was made at MIT, as Rodney Brown pointed out. Massachusetts has always had the brains to make games, just not the businesses to keep them. Well, that's all changing.
[Images: MassDiGI]