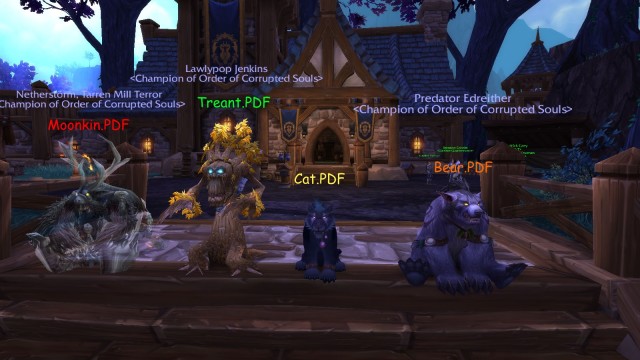 WoW! Talk! #52: All Druid Forms Converted to PDF
The WoW! Talk! gang discuss ability pruning and other changes, along with some of their favorite missing abilities. Also of note is the random disconnects that seem to crop up during switching servers. Hearthstone may or may not be inadvertently spoiling World of Warcraft lore by revealing new forms of characters, or even previously unseen ones. If you happen to be a child between the ages of 8 to 12, then you're in luck! Schoolastic and Blizzard have teamed up to bring you story books chronicling the adventures of a young group of would-be heroes who are exploring the world of Azeroth!
In other game-related news, your legendary ring? Screw it. Quests are being removed! When the pre-patch drops, if you're not already on the quest, you can no longer pick it up. Finish it if you got it! Then, to wind things down, you have your April Fool's patch notes! The gang spout off a few of their favorites, including the coveted FrostDoge faction, which should totally be a real faction.