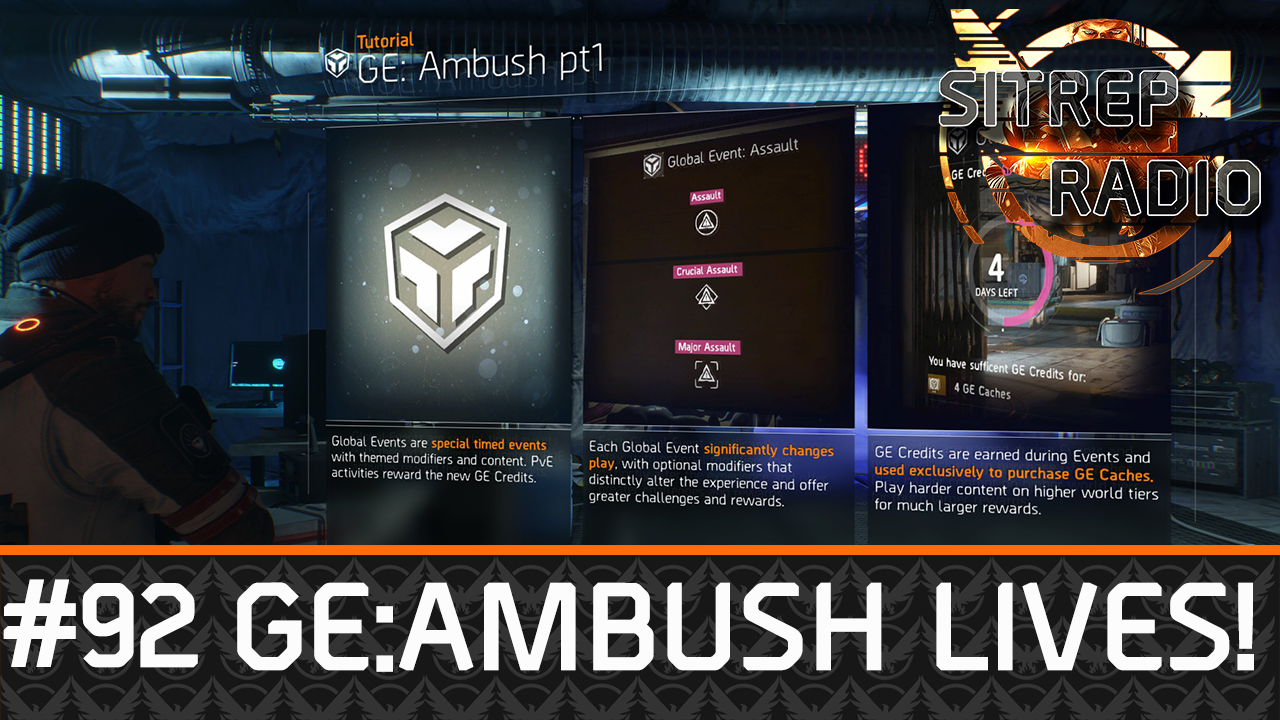 SITREP Happy Hour #92
GE: AMBUSH LIVES!
Global Event: Ambush is here which means no sleep for TeamSITREP in another deranged episode covering news and discussions for the week.
Because a Global Event is active this week's Episode (92) of SITREP Radio is a sleep-deprived affair, so be warned.
The lads have been chasing their 6-piece Classified builds of Alpha Bridge, Tacticians Authority, FireCrest and Hunter's Faith now that Ambush is live, but with only Tuesday and Wednesday night under their belts, the progress has been slow thus far. Hopefully, RNGesus blesses the 3 of them in the not-too-distant-future.
This week's State of the Game broadcast was once again heavily community focused. However, there was a "Stats with Yannick" segment, which is always fun. Petter and Yannick also re-iterated their stance of waiting until all 14 Classified Gear Sets have been live in the game for a little while before swinging the nerf hammer or even doing any minor tweaks, which #TeamSITREP think is an excellent approach.
As is the norm nowadays Mike, Rob and Luke close the show out with questions from their listeners/Discord community members.
Hosts
Mike is a huge lover of all things media based. From games to movies, comics and music. Preferably the alternative genre.
A bit of geek when it comes to TV, Movies, Podcasts, and Games.
I've been a gamer ever since I can remember. I started with a Commodore64, then Amiga1200, and various PCs. Consoles I've owned include SNES, Wii, GameCube, Xbox 360 and every version of PlayStation to date. My most played games are Team Fortress Classic, Championship Manager, early COD titles (don't mention Black Ops or MW3!) as well as almost all of the Gran Turismo and GTA series'.