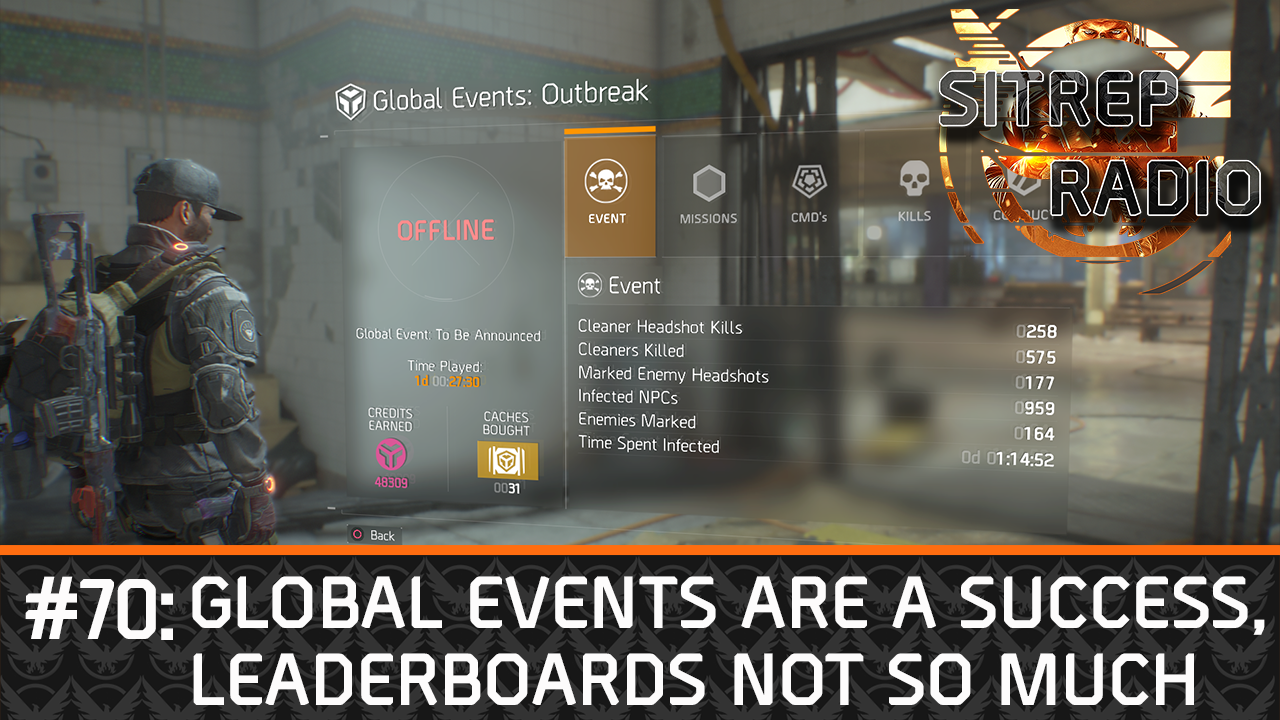 SITREP Happy Hour #70
Global Events are a Success. Leaderboards, Not So Much.
The First GE Is Now Over as Leaderboard Troubles Cause Controversy For Some.
With the first ever Global Event "Outbreak" over and done with, SITREP Radio is here to pick through the remains of the week and bring you the latest news from the world of The Division. There is obviously much talk of the Classified Gear drops, the Global Event, Encrypted Caches, and unfortunately far too much talk about leaderboards and the controversy surrounding it especially after how well the new update has come across to the community.
Mike, Rob, and Luke talk about their NinjaBag builds, their Classified Gear Set builds, how much they've been grinding away at the new update and the guys also answer a few questions from members of their Discord community.
Finally, the lads want to reiterate that they have thoroughly enjoyed update 1.7 and the global event and want to say Well Done and Congratulations to the guys over at Massive.
Hosts
Mike is a huge lover of all things media based. From games to movies, comics and music. Preferably the alternative genre.
A bit of geek when it comes to TV, Movies, Podcasts, and Games.
I've been a gamer ever since I can remember. I started with a Commodore64, then Amiga1200, and various PCs. Consoles I've owned include SNES, Wii, GameCube, Xbox 360 and every version of PlayStation to date. My most played games are Team Fortress Classic, Championship Manager, early COD titles (don't mention Black Ops or MW3!) as well as almost all of the Gran Turismo and GTA series'.