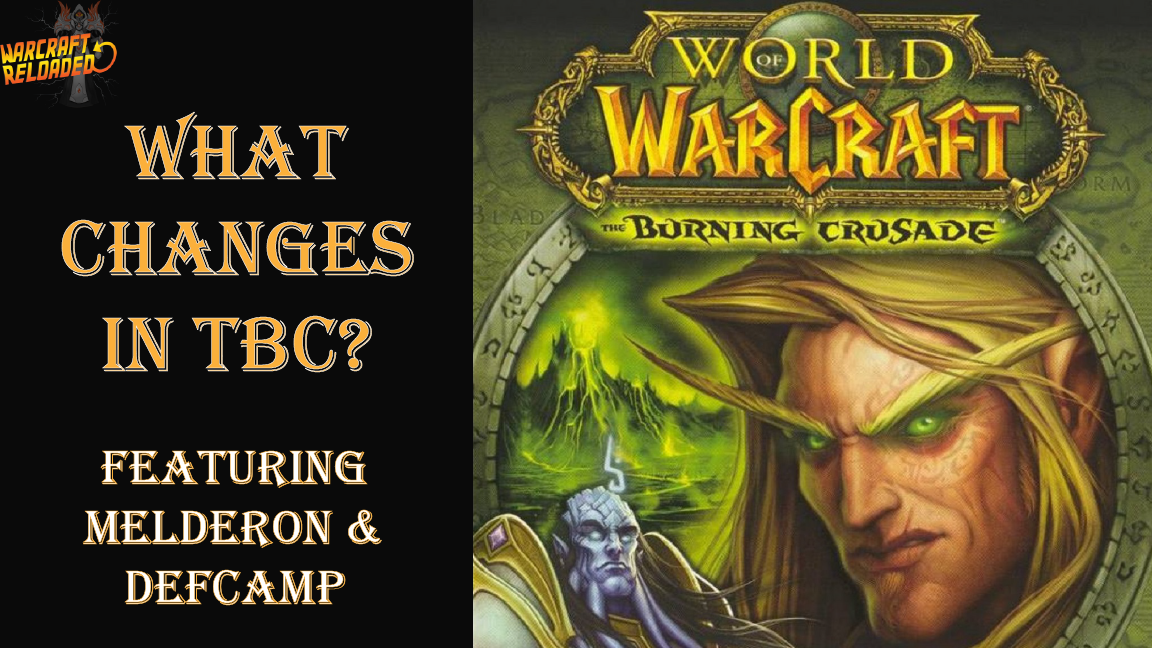 Warcraft Reloaded #28
What Changes in TBC?
Let's talk about what changes in The Burning Crusade.
This week Defcamp and Melderon join the crew to talk about BIG changes coming in The Burning Crusade. The show starts off talking about recent happenings in WoW Classic but then moves on to how much the game with change with TBC Classic. This is definetly a long one so strap in a enjoy the ride!
0:0 – Intro
3:28 – Reviews
4:32 – Corrections from last weeks 4 horsemen discussion
Weak Aura for 4 Horsemen – wago.io/amLxHdF6g
11:22 – What have Defcamp and Melderon been doing this week
21:19 – Vargflocken Naxxramas Progression
49:47 – Start of the News
50:09 – Naxxramas Hot Fix – 1/20/21 but we didn't mention it last week
Kel'thuzad will now reset if any creatures walk past the encounter door
51:43 – Target dummies available on the PTR
58:46 – Pre-Patch changes in TBC
wowwiki.fandom.com/wiki/Patch_2.0.1
58:46 – Looking for group
1:08:20 – All pets will now receive a percentage of their master's armor, spell damage, spell resistances, attack power, and stamina
1:16:48 – Low-level spells cast by high-level players will receive smaller bonuses from +healing and +spell damage
1:22:35 – HoTs, DoTs, and channeled spells have been re-balanced to receive a more appropriate (higher) percentage of +spell damage and +healing.
HoTs from different sources will now stack (i.e. multiple druids can cast the Rejuvenation spell on 1 target)
1:25:47 – Resilience
1:34:08 – No more glancing blows?
1:38:08 – Will we see a pre-patch in WoW Classic for the Classic TBC launch?
1:40:57 – In PvP, Crowd Control effects will last no longer than 12 seconds instead of the full duration, with a chance of a heartbeat resist
1:50:23 – Honor system revamp
1:57:38 – Arenas added
1:59:21 – Patch 2.1 – wowwiki.fandom.com/wiki/Patch_2.1.0
2:06:43 – Druid epic flight form
2:09:15 – Patch 2.2 – wowwiki.fandom.com/wiki/Patch_2.2.0
2:09:15 – AOE damage caps
2:12:33 – Voice chat
2:13:26 – Haste rebalanced
2:14:50 – Hallows End event
2:16:39 – Patch 2.3 – wowwiki.fandom.com/wiki/Patch_2.3.0
2:16:39 – Guild Banks
2:17:59 – XP needed to level from 20-60 reduced
2:19:40 – Bonus healing now provides ? bonus spell dmg
2:20:52 – Patch 2.4 – wowwiki.fandom.com/wiki/Patch_2.4.0
Isle of Quel'Danas, Sunwell, Mounts at level 30
2:27:51 – Flying mounts in TBC
2:31:12 – Retribution Paladin Seals
2:34:33 – Closing
Hosts
IT System Engineer by day, avid gamer by night! Bob has been gaming his entire life and first started standing on a chair playing the arcade version of Super Mario Bros. Now he plays all kinds of games but focuses mainly on Overwatch.
Ryan has been playing games all his life. He\\\'s a Blizzard fanatic from Diablo 2 and Brood War to Overwatch and WoW. He loves RPGs, FPS, platformers, and rogue-likes.