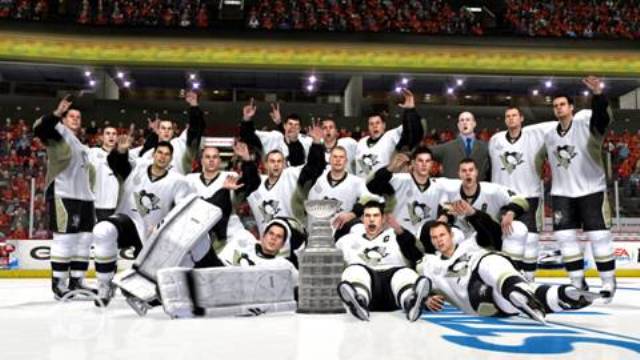 It's June again already. Defenseman Kris Letang feeds Sidney Crosby with an outlet pass, and Sid breaks through the neutral zone before he parts the Blackhawks' D like the Red Sea and fires a wrister over the shoulder of Ray Emery from the slot to put the Penguins ahead for good. The Pens go on to add an empty-netter late in the third period to win the game 4 – 2 and take home Lord Stanley's Chalice. It is the franchise's fourth Stanley Cup victory.
OK, you got me; my hockey-loving brain made up that play on its own. The point is, though, that EA has run another one of their infamous simulations in NHL 12 and the Pittsburgh Penguins came out on top as Stanley Cup Champions after finishing second in the Easter Conference. Center and Team Captain Sidney Crosby ended up taking home the Conn Smythe as MVP of the Cup Finals.
Chicago was able to make it to finals despite finishing behind the President's Trophy-winning Vancouver Canucks in the Western Conference. Back in the Eastern Conference, Toronto was able to slip into the postseason as the number eight seed for the first time in seven years.
Henrik Lundquist of the Rangers won the Vezina trophy as the NHL's best goalie. The Flyers' Brendon Shenn became the Calder Trophy winner as Rookie of the Year. Meanwhile, Alex Ovechkin of the Capitals took home some serious hardware. Ovie came away with the Art Ross for tallying the most points during the regular season, as well as the Hart Trophy for being voted league MVP.
Will any of this come to pass? Impossible to say, but EA did get it right back in '10 when its simulation crowned the 'Hawks as champs. And although it didn't have Boston winning it all last year, it did accurately predict that they would meet the Canucks in the finals.
Game on.