Articles
News, editorials, previews, interviews, and more.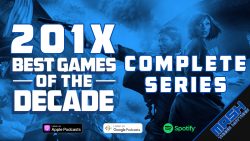 201X: Best Games of the Decade
We've made it through all 10 years of the decade, and now it's time to narrow down our top 10 games of the decade. Before we dive into that, we also which publishers and developers delivered the best games and which games we felt were most important for this decade. It's been a great journey, and hope you've enjoyed the ride. Thanks, and enjoy our picks for best games of the decade.......