Push The Point
An Overwatch League podcast following OWL storylines, players, and major news.
Push the Point is an Overwatch League podcast focused on discussing the events surrounding the league, its players, storylines, and marquee matchups. We aim to provide an engaging and conversational dialogue about the league and its topics, with the desire to encourage a positive outlook of the league and the game itself within the Overwatch and Overwatch League community.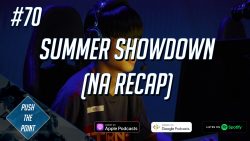 Push The Point #70: Summer Showdown (NA Recap)
What a weekend of incredible Overwatch! We're back with our NA tournament recap, looking at the player performances and key moments of each match. Available everywhere now! #OWL2020......