Push The Point
An Overwatch League podcast following OWL storylines, players, and major news.
Push the Point is an Overwatch League podcast focused on discussing the events surrounding the league, its players, storylines, and marquee matchups. We aim to provide an engaging and conversational dialogue about the league and its topics, with the desire to encourage a positive outlook of the league and the game itself within the Overwatch and Overwatch League community.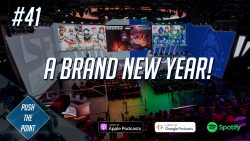 Push The Point #41: A Brand New Year!
Happy New Year! @Ramses_OW and @LoBosco are talking player announcements and Tier 2 drama on our last recording of 2019! We also recap some of our fav moments and set some goals for the show in 2020!......