Push The Point
An Overwatch League podcast following OWL storylines, players, and major news.
Push the Point is an Overwatch League podcast focused on discussing the events surrounding the league, its players, storylines, and marquee matchups. We aim to provide an engaging and conversational dialogue about the league and its topics, with the desire to encourage a positive outlook of the league and the game itself within the Overwatch and Overwatch League community.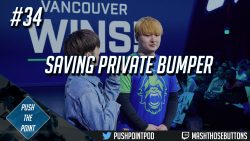 Push The Point #34: Saving Private Bumper
As players move and teams transform, @Ramses_OW and @LoBosco are here to break down all the offseason news from the past 2 weeks. Come get caught up with us, as the off season kicks into high gear!7......